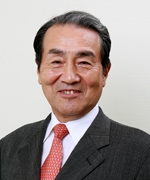 Medical Corporation
Keikoh-kai Ohishiro clinic
President
Toshio Ohshiro

Light created life on earth, while life evolved responding to light stimuli. Vertebrates are the most evolved animals and if human beings are the most evolved vertebrate, then the human cells are most susceptible to light.
Laser light is an artificial light which is monochromatic and shows temporal and spatial coherency with high collimation which in turn can be focused to small point and achieving high irradiance. I used the characteristic of color selectivity of laser light to treat nevi by selectively destroying the pigmented cells and used laser light reactive to water to destroy cells and tissue containing water. These treatments that I have developed made possible a treatment with less bleeding, less damage and better results than conventional treatment methods.
While treating nevi with lasers, patients told me that their pains were alleviated or that their atopic dermatitis improved or that their symptoms of pollenosis were relieved, or that their vitiligos were picking up color. I realized that these phenomena were the result of weak laser irradiation. When treating lumbago of a post-menopausal woman, menstruation recurred. This led me to develop a new treatment for infertility to increase the pregnancy rate.
Throughout the years, I have been creating a general hospital of laser treatment in order for the people to live long "healthy" , "beautiful" and "gorgeous" lives.
Presently I, as the president of International Society for Laser Surgery and Medicine, Chief Secretary of the World Federation of Societies for Laser Medicine and Surgery, Counselor to the Japanese Society for Laser Surgery and Medicine, president-emeritus of Japan Society for Laser Reproduction, vice-president of Keio Medical Laser Association, editor-in-chief of journal Laser Therapy which is the official journal of International Society for Laser Surgery and Medicine, Asian-Pacific Association for Laser Medicine and Surgery and International Phototherapy Association, am working avidly for the international promotion of laser treatment.
The History of Ohshiro Clinic
■ The world's first general hospital specializing in laser treatment.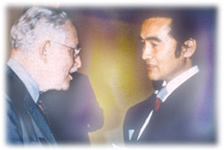 President Ohshiro with
his mentor Professor Goldman.
Laser is a light. After the research of light by many researchers, an American Theodore Maiman succeeded in creating laser light using ruby crystals as the laser medium. The president of this clinic, Ohshiro read a paper written by Professor Leon Goldman, where application of lasers in the field of dermatology and was inspired to apply lasers to the treatment of nevi which Ohshiro was studying at the time. In 1974, Ohshiro flew to the United States and received training in laser medicine and laser engineering. In 1975, Ohshiro established Ohshiro clinic for the laser treatment of nevi, and Japan Medical Laser Laboratory in Shizuoka-city, Shizuoka prefecture. In 1977, the clinic and laboratory moved to Koujimachi, Chiyoda-city, Tokyo and in 1994, they moved to the present address of Shinanomachi, Shinjuku-city, Tokyo. In 2002, the clinic was made into a medical corporation, and has been ever since then to the present date.
At the time of the establishment there were no medical lasers available in Japan. Ohshiro had to contrive by independently importing the ruby laser K2 (for industrial use, made by Korad Co. a company created by Maiman) and reforming it for medical use at the Japan Medical Laser Laboratory. The reformed laser device was called Ohshiro type KORAD K2 ruby laser and laser treatment of nevi commenced. This was the beginning of laser treatment in the fields of plastic surgery and dermatology in Japan.
Following this, the clinic became the pioneer of laser treatment, treating mainly melanotic nevi (black nevi, brown nevi, white nevi) and abnormal vascular nevi (red nevi). The efficacy of the treatments were reported through books, academic journals, meetings of societies, news papers, television and periodicals both domestically in Japan and internationally. The possibilities of medical lasers were pursued, and application of lasers broadened to such as the treatment of pain (orthopedics, pain clinic), medical laser hair removal, allergic rhinitis (ENT clinic), climacteric disturbance and infertily (Lady's clinic), cosmetic surgery and cosmetic dermatology.
Presently, Ohshiro clinic owns and operates 103 laser devices of 29 types of lasers. These lasers are used by specialists from the fields of plastic surgery, dermatology, orthopedics, pain clinic, ENT clinic, Lady's clinic, cosmetic surgery and cosmetic dermatology for a comprehensive coverage of general disorders.
Ohshiro clinic has a strong conviction to use lasers for medical care in order for people to live life "healthy" , "beautifully" and "gorgeously" and it will continue its work as the world's first general hospital specializing in laser treatments.
■ Timeline of Ohshiro clinic and Japan Medical Laser Laboratory.
| | |
| --- | --- |
| June 1974 | Ohshiro flies to the United States for training in laser medicine. |
| February 1975 | Laser treatment of nevi commence after reforming ruby laser KORAD K2. |
| June 1975 | Japan Medical Laser Laboratory established. |
| June 1975 | Ohshiro clinic established. |
| April 1980 | Pain clinic starts. |
| 1985 | Diode laser OhLase3D1 is developed at Japan Medical Laser Laboratory. |
| October 1990 | First meeting of International Laser Treatment Association was held in Okinawa, presided by Ohshiro. |
| October 1993 | Treatment of pollenosis starts. |
| October 1996 | Treatment of infertility starts. |
| December 1996 | Medical laser hair removal starts. |